200 Years On The Erie Canal Lecture Series
Michael Barrett of the Hudson Mohawk Industrial Gateway will be presenting a talk on the anniversary of one of New York States – and America's – cultural and historic landmarks, the Erie Canal. Join us as he takes us on a journey through the 200 years of the canal, from its construction begun on July 4, 1817, to its impact on the state and country since it official opening with the Wedding of the Waters in 1825. With a fantastic speaker, this will be a great opportunity to hear some fascinating details of the canal that helped to shape many of the local communities.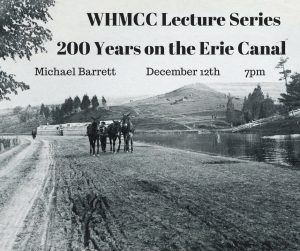 The lecture will begin at 7pm at the Van Schaick Island Country Club, but you're welcome to come earlier and take advantage of the delicious food available for purchase at the club (not included in admission price).
Admission: $6 not-yet members $ 5 museum members