2019 Navigation Season on the Erie Canal
The New York State Canal Corporation has announced the operational hours and dates for the 2019 Navigation Season for the entire canal system.
Boaters are advised that, conditions permitting, all portions of the New York State Canal System are scheduled to open Friday, May 17, 2019, at 10:00 a.m. for the 2019 navigation season. There will be no tolls or fees for recreational use of the Canal System in 2019.
The hours of operation for the 2019 season are as follows:
• May 17 to October 16: 7:00 a.m. to 5:00 p.m.
In addition to the schedule listed above, the following locks and lift bridges will operate on demand from 7:00 a.m. to 10:00 p.m. from May 17 to September 11:
• Lock C-1, Halfmoon
• Lock E-7, Niskayuna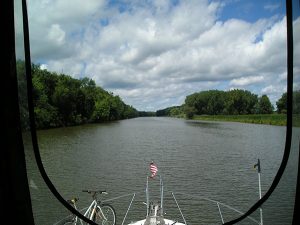 • Lock E-8, Rotterdam
• Lock E-23, Brewerton
• Lock O-1, Phoenix
• Lock O-2, Fulton
• Lock O-3, Fulton
• Lock O-8, Oswego
• Lock E-24, Baldwinsville
• Main Street Lift Bridge, Fairport
• Lock E-32, Pittsford
• Lock E-33, Henrietta
• Spencerport Lift Bridge
• Adams Basin Lift Bridge
• Park Avenue Lift Bridge, Brockport
• Main Street Lift Bridge, Brockport
• Holley Lift Bridge
• Hulberton Lift Bridge
• Ingersoll Street Lift Bridge, Albion
• Main Street Lift Bridge, Albion
• Eagle Harbor Lift Bridge
• Knowlesville Lift Bridge
• Medina Lift Bridge
• Middleport Lift Bridge
• Gasport Lift Bridge
• Exchange Street Lift Bridge, Lockport
• Lock E-34/35, Lockport
• Lock CS-1, Cayuga
• Lock CS-2/3, Seneca Falls
• Lock CS-4, Waterloo
In addition to the schedule listed above, the following locks and lift bridges will operate on demand from 7:00 a.m. to 7:00 p.m. from May 17 to September 11:
• Lock E-25, Mays Point
• Lock E-26, Clyde
• Lock E-27, Lyons
• Lock E-28A, Lyons
• Lock E-28B, Newark
• Lock E-29, Palmyra
• Lock E-30, Macedon
In addition to the structures listed above, Locks E-2 through E-6 and Guard Gate #2 in the Waterford Flight as well as Locks E-21 and E-22 will operate on demand from 7:00 a.m. to 10:00 p.m. from Thursday through Monday from May 17 to September 11. During the same period, the hours of operation for the Waterford Flight will be 7:00 am to 6:00 p.m. on Tuesdays and Wednesdays. Due to roving operations, some delays may be experienced during certain periods in the Waterford Flight.
Vessels will be admitted through structures if arriving prior to scheduled closing. Vessels arriving at Lock CS-2/3 in Seneca Falls or Lock E-34/35 in Lockport from either direction prior to scheduled closing will be admitted through both chambers. Vessels arriving westbound at Lock E-21 in New London or arriving eastbound at Lock E-22 in Verona prior to scheduled closing will be admitted through both locks. Vessels arriving southbound at Lock C-4 in Stillwater or arriving northbound at Lock C-3 in Mechanicville prior to scheduled closing will be admitted through both locks. Vessels arriving at the Waterford Flight from either direction prior to scheduled closing will be admitted through the entire Flight.
To be advised of all information related to navigation on the Canal, sign up for the New York States Notices for Mariners notifications
http://www.canals.ny.gov/wwwapps/tas/tascanals/index.as