Bareboat Charter on the Erie Canal
Where are you planning on vacationing this summer? How about a Bareboat Charter on the Erie Canal?
Wikipedia describes a bareboat charter as an arrangement for the chartering or hiring of a ship or boat, whereby no crew or provisions are included as part of the agreement, instead, the people who rent the vessel from the owner are responsible for taking care of such things.
Want to both stay close to home but also experience memories that will last a lifetime? At over 500 miles in length the Erie Canal System, or what is sometimes referred to as the New York State Barge Canal offers the New York Boater un-matched opportunities.

One of the biggest challenges to exploring the Erie Canal System is time. If you're a Long Island Boater you would have to dedicate enough time to reach the canal, experience it and travel back to Long Island. That of course would be a great experience, but unfortunately most of us do not have that luxury. Do you trailer your boat? You can drive to the area you wish to explore and launch your boat from one of the many boat ramps or marinas along the system.
If neither one of those options is available to you consider chartering one of the numerous opportunities on the Canal System
There are a variety of boats available to charter, everything from a 23' cabin cruiser perfect for a couple, to a 60' houseboat that can accommodate 14. There are boats available to experience all the different sections of the Canal
First thing on the agenda is planning. How much time do you have, what section of the Canal do you want to visit. While there are a number of online resources you can explore to learn about the Canal, my two favorites are the Canal Cruising Guidehttp://www.canals.ny.gov/boating/cruisingguide.html from the New York State Canal Corporation and the Skipper Bob's publication "Cruising the Erie Canal". http://www.skipperbob.net/These two publications are must have resources on your trip and some of the businesses listed in this article provide those publications on their boats.
The Erie Canal stretches across the state from where it joins the Hudson River at Waterford to the Niagara River in the Tonawanda's. There are three additional Canals to explore. The Champlain runs north from Waterford to Lake Champlain. The Oswego runs north from its junction with the Erie at three rivers to its termination in Oswego and Lake Ontario. The Cayuga / Seneca Canal runs south from the junction with the Erie 200 miles west of the Hudson in the Montezuma Wildlife Refuge and heads 4 miles south into Cayuga Lake. From there you can either travel south to Ithaca or west to Seneca Lake and then south to Watkins Glen.
The Erie Canal System allows boaters from upstate NY to travel anywhere in the world, and you will see many boaters who are on a trip of Americas Great Loop, the circumnavigation of the eastern portion of the US traveling across New York as they make their way into Canada or the Great Lakes.
For those of you who are accustomed to travel by boat, and other than anchoring have been limited to marinas for overnight stays, you are truly in for a treat. You will almost exclusively be staying in a different town each night. Many times for free, with electricity, water, Wi-Fi, shower houses, and boater centers. Where you are required to pay, it's never more than $1.00 per foot and mostly it will be similar to what you will experience in Fairport at $9 per night or Brockport for $11.00 On the western section the Tonawanda's are the priciest at $20.00 night. On the eastern section at towns like Ilion or Little Falls its $1.00 per foot.
Often as you pull up to a town you will be greeted by a local citizen who will grab your lines, and will provide you with local information like where to shop for provisions, or where to enjoy a great meal.
Oh yea, and you better learn to wave. When you pass another boater, or a bicyclist cycling the Erie Canal way trail they will be sure to wave. Everyone seems happy on the Erie!
OK, so you have picked a region you wish to visit. Is the eastern portion, the Champlain, the western section, the Oswego or the Cayuga/Seneca, now it's time to search for a boat.
There are a number of companies offering Bareboat Charters on the Erie. You can access the list at the New York State Canal Corporation web site. They not only list the companies that offer Bareboat charters but also have a number of opportunities for cruises offered by companies on tour boats both hourly and overnight. They also have listings for companies that offer Kayak and Canoe rentals. You will often pass boaters in Canoes, Kayaks and other small crafts, make sure to slow down, there is no rush on the Erie.
The largest company offering Bareboat Charter Boats is Midlakes Navigation. http://www.midlakesnav.com/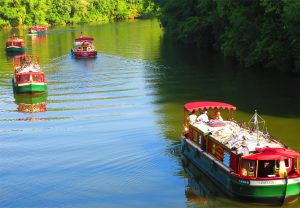 Their fleet of 10 European style canal boats operates out of their full service marina in Macedon. Their location allows you to make a decision when you leave their marina to turn east or west on your vacation. Midlakes also operates tour boats that offer multi-hour and overnight trips on the Canal system as well as a tour boat that operates on Skaneateles Lake.
Heading west in Lockport you can rent a house boat from Pendleton Porches. http://www.porchesofpendleton.com/ Their houseboat sits behind their Bed & Breakfast which makes for great lodging on either end of your trip. Whether west towards Tonawanda or East towards Fairport the western section of the Canal offers you an experience of times long since passed. The small towns like Holley, Middleport and Medina all offer everything you would imagine in Small Town America. On a recent visit to Medina I was offered the use of a local citizen' s car to travel to a supermarket just out of town and enjoyed an all you could eat spaghetti dinner at a local diner for $2.99. Head west to Tonawanda and enjoy the canal side restaurants or rent a car and travel 20 minutes to Niagara Falls or the Navel Museum harbor side in Buffalo, the only inland navel museum in the country.
Interested in the Champlain or the Eastern section of the Canal System. Check out the Erie-Champlain Canal boat Company www.eccboating.com   Start out in Waterford the country's oldest incorporated village and climb the highest canal lift in the world, a total of 169' through 5 locks. Visit towns like Ilion or Little Falls where lock 18 is the highest single lock lift on the Canal at 40' or continue on to Sylvan beach which will remind you of an old seaside beach town complete with the beach and amusement park. Or cruise northward 60 miles to Lake Champlain and immerse yourself in history while you experience Revolutionary War sites along the way.
Can't decide on the eastern or western sections of the Canal, start out on the Cayuga Seneca Canal with one of the three European Canal Boats from Erie Canal Cruise Lines. http://www.canalcruises.com/index.html They are based on the wall in the Village of Seneca Falls, a great stop on the Canal System no matter which direction you are headed. Another option is Cruise-USA www.cruise-usa.com with their 22' Nimble Nomad a small but more than adequate boat for a couple. The Nomad can be seen almost every weekend heading down the Cayuga / Seneca for their first night in Seneca Falls. Cruise-USA is based out of Hibiscus Harbor Marina about 7 miles south of C/S Lock 1 on the eastern shores of Cayuga Lake in Union Springs NY. There web site lists sample itineraries for a weeklong trip on their boat.
Want to have family reunion, rent the 60' houseboat from Stivers Marina based in Waterloo NY. http://www.fingerlakeswateradventures.com/SenecaLakeErieCanalHouseboatRental.html The boat will accommodate up to 14. Whenever you encounter this boat on the Canal, there is no doubt everyone onboard is having a great time.
For the more physically ambitious amongst us rent some Kayaks from the Erie Canal Boat Company www.eriecanalboatcompany.com located on the waterfront in Fairport. You can camp for free at every lock on the system. Macedon is about to open a new waterfront park which will also allow for free camping.
The one thing you won't experience on the Erie Canal System is crowds. I have often described the Erie Canal as the most underutilized recreational resource in New York State. If you plan a trip you won't be disappointed!