Blount Small Ship Adventures, Erie Canal Cruise
Blount Small Ship Adventures can take you to places that no other cruise line can go. This year in celebration of the 200th Anniversary of the construction of the Erie Canal they will be sailing 8 times through the Canal. Don't miss this opportunity to experience something very special.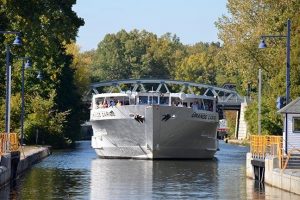 With ports of call including Oswego, Buffalo, Sylvan Beach, Amsterdam and Troy, the opportunity to travel with less than 100 guest on board could best be described as "Cruising on your friends Yacht" Taking a cruise with Blount Small Ship Adventures will amaze all your senses, from the fine dining, to the casual atmosphere, that one will experience any one of the itineraries' available on Blount will not disappoint!
The Great American Waterways Cruise and the Lock's Legends & Canals of the Northeast are the two cruises that Blount is offering in 2017 that include ports within the Erie Canal Corridor.
For all the information on experiencing a Blount Small Ship Adventure Cruise visit their web site
Blount Small Ship Adventures is a supporter of the NYS Canal System and an ongoing member of Canal NY. The only private sector organization dedicated to the promotion of the Canal System and the businesses within the Canal Corridor.