Boom & Bust: America's Journey on The Erie Canal
Boom & Bust: America's Journey on the Erie Canal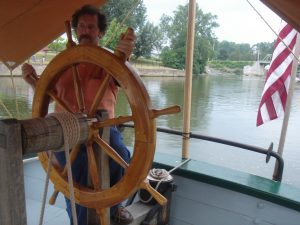 The H. Lee White Maritime Museum at Oswego is proud to host Dr. Dan Ward as part of its 2017 History Lecture Series on Saturday, June 24th at 1:30 pm. Ward is a co-producer of "Boom and Bust: America's Journey on the Erie Canal," a documentary that tells the story of industrial expansion and decline along the Erie Canal. After a screening of the film, Ward will discuss his upcoming journey with fellow co-producer, Steve Zeitlin, who will be traveling by canal boat from Brooklyn to Buffalo screening "Boom and Bust" in canal ports large and small along the way in celebration of the bicentennial of the Erie Canal's construction.
Ward is an historian, folklorist and film maker based in Syracuse, NY. He is also a member of the Board of the Canal Society of New York State and serves as the Education Curator for the Canal Society's newly-opened Old Erie Canal Heritage Park at Port Byron, NY. He holds a Master's degree from the Cooperstown Graduate Program and a PhD in American Culture from Bowling Green State University. Mercedes Niess, Executive Director of the Maritime Museum stated "we have a long history of successful projects with Dan Ward, and are excited to feature him in our exceptional 2017 lineup of speakers."
The Maritime Museum's History Lecture Series will also be featuring notable lighthouse author Ted Panayotoff on Saturday, August 5th at 1:30 pm. Panayotoff, longtime Maritime Museum and Oswego Lighthouse supporter, will be presenting on aids-to-navigation along the New York State Canal System, continuing with the Museum's canal themed lineup.
The Maritime Museum is partnering with the City of Oswego to host a one act play written by local playwright, Richard Sivers. The Oswego Canal Play will take place on Friday August 17th at 8pm. The story will focus on early Oswego Canal life in the 1830's. This event is also part of the Erie Canal celebration.
This event is free and open to the public. The Maritime Museum and Treasure Chest Gift Shop are open daily, 1-5 pm with expanded hours from 10-5 pm in July and August. For more information regarding this or other Museum programs, contact the Museum at (315) 342-0480, or visit: http://www.hlwmm.org