CanalNY is always looking for ways to increase the value of your membership. We recently negotiated discounts on the great advertising opportunities, Upstate Summer Magazine and www.DiscoverUpstateNY.com.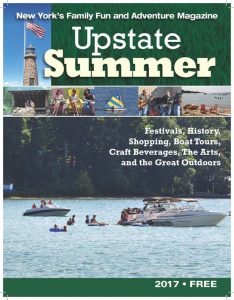 Upstate Summer is adding a section about New York State Canals and the many recreational opportunities both on the water and on land. CanalNY members can get up to 55% off the regular rates through a special co-op agreement. Upstate Summer is different from other places-to-go publications. All advertising is focused on travel and tourism related businesses and is supported by editorial features. This makes the ads part of the content, and helps form cohesive regional sections. Upstate Summer has low cost per copy advertising rates and is the only New York travel publication offering multi-region coverage and targeted distribution in the most desirable markets. In 2017 every distribution location used 100% of what they had by the end of the season; there was no waste.
Distribution: Upstate Summer Magazine is distributed in supermarkets in the higher income suburbs of Rochester, Syracuse, Utica, Albany, and Buffalo. We have found this to be the best way to cover a wide area because everyone in town shops at these stores and the distribution companies keep the racks full. The magazine is also available at information centers on Interstate 81 and the Thruway, as well as chambers of commerce, coffee shops, convenience stores, and other high-traffic locations across Upstate New York. 70,000 copies are printed and distributed and an online edition is available at www.DiscoverUpstateNY.com.
DiscoverUpstateNY is the new internet and social media platform that features destinations across Upstate New York. They are offering CanalNY members:
6 – 246×196 pixel ads on website attraction pages
opportunity to submit events to the "Events Calendar" page and to share weekly posts on the Discover Upstate NY Facebook site
an Advertising Listing (with logo or image plus 100 word writeup and link) on the Advertisers/sponsors page with Google analytic rankings
Normally a $375 value, this 1-year package is discounted to CanalNY Members for only $100
Website: www.DiscoverUpstateNY.com promotes travel, family fun, and vacation opportunities in Upstate New York. The DUNY website and social media sites organize and publish useful content about places to visit and things to do. It features more than 650 attractions and features hotels, B&B's, motels, restaurants, state parks and private campgrounds, sporting attractions, cultural heritage sites, wineries, breweries, distilleries, shopping, and family fun activities. The site is adaptive for mobile devices and offers an events calendar, interactive map, itinerary planning tool, and publishes a quarterly email newsletter. We are affiliated with www.Expedia.com to allow visitors to make lodging and travel reservations directly from the site. It is security-certified by MacAfee/GoDaddy to protect against hackers.
Social Media: www.DiscoverUpstateNY.com maintains active Facebook, Twitter and Instagram sites featuring information about events and offers updated 7 days a week by our social media director. The site engages in interactive as well as content marketing to assure visibility. Complimentary Instagram and You Tube channels are included.
Please look over the enclosed information and respond by February 1 if you would like to take advantage of either or both offers.
Check out the discounted ad rates and don't wait to take advantage of this opportunity. Our goal is to grow this into an Erie Canal Edition Only over time!
John Farrell
315-768-7137