We currently travel on the third generation of the Erie Canal, commonly referred to as the "Barge Canal" 2018 celebrates the centennial of the opening of this version of the Canal system. The fact that we travel today on infrastructure designed and built 100 years ago is a great testament to the engineers and builders of the Barge Canal and the foresight of NYS to embark of its construction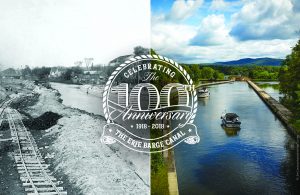 The Canal Society of New York State in conjunction with the New York State Canal Corp and in partnership with the Centennial Celebration Committee are hosting two events to mark the centennial opening of the Erie Barge Canal in 2018.
When: Saturday May 5th. Canal Conversation & Symposium
Theatre at Stong Museum of Play Rochester
Join the conversation at this daylong public forum in which presenters discuss canal history and its continued value today and for the future. Registration $40, includes breakfast, coffee breaks and lunch.
Thursday May 10th. Centennial Celebration: Watering of the Erie Barge Canal
East Guard Lock just west of Kendrick Rd.
Witness the re-creation of the first inflow of water into the 20th century Erie Canal as "Teddy Roosevelt" sponsors, and other dignitaries greet the public and ceremoniously commemorate the event using the authentic shovel used 100 years ago on May 10th. 1918. Dignitaries will also unveil a bronze plaque to celebrate the designation of the NYS Canal System as a National Historic Landmark. FREE
Canal by Coach Tour: Following the festivities join Canal Society of New York State President Emeritus Tom Grasso and other experts for a guided tour by motor coach of the remarkable canal sites in eastern Monroe County Registration: $60. Includes lunch, bus, printed guide and more.
History:
On the morning of May 10th. 1918 a group of engineers, contractors, workers and a few prominent citizens gathered on the east side of the Genesee River in Genesee Valley Park to inaugurate a monumental, audacious and revolutionary accomplishment in New York State's long and storied canal history. Water for the first time was let into the newly completed expansion of the Erie Canal or "Teddy Roosevelts Ditch". Five days later the new Erie-Barge Canal was opened for through traffic from the Great Lakes to the Hudson River. A new era had begun.
Sponsors: New York State Canal Corporation, Canal Society of New York State, Create a Brand, City of Rochester, Erie Canalway National Heritage Corridor, Bergman Associates, and John & Eve Graham.
To register for either of the events, click here
http://www.newyorkcanals.org http://www.bargecanal100.com