Hello Cycle the Erie Canal riders, past, present and future!

We are excited to announce that registration for Cycle the Erie Canal 2022 officially opens today, Wednesday, January 5, at noon.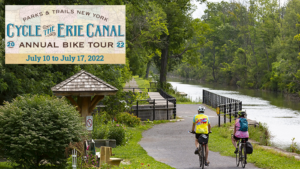 Our traditional eight-day adventure is returning for a 24th year in 2022. Riders will leave Buffalo July 10 and reach Albany on July 17.
This year, we are happily returning to our usual registration cap of 650 riders.
We understand that riders will have many questions. You can find the answers to many of these questions on our Cycle the Erie Canal FAQ page. If you have questions that aren't covered, please email us at

[email protected]

and we will do our best to respond in a timely manner.

We look forward to seeing you on the trail!

The Parks & Trails New York
Cycle the Erie Canal Planning Team