About Macedon
About Macedon
Located at mile marker 239, Macedon sits just off the water of the Erie Canal and the Erie Canalway trail. Macedon offers visitors a spacious canal park with its new Kayak launch, and butterfly trail, an area for camping as well as the ability to tie up just west of Lock 30. While there are no facilities for boaters here, Macedon is the home of Mid-Lakes Marina, a full-service marina offering transient docking
and fuel located at mile marker 240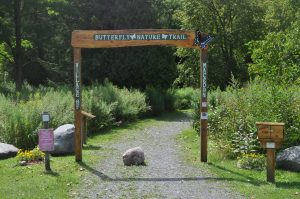 History of Macedon
The town of Macedon was created from the town of Palmyra on January 29, 1823. Macedon has an area just over 23,000 acres with a gently rolling, irregular surface. It is located in the extreme southwest corner of Wayne County.
Macedon's first settlers, Webb and Hannah Harwood, arrived in what is now Macedon in the late spring of 1789, after a forty-six day journey from Adams, Massachusetts in an uncovered wagon drawn by a team of oxen.
The Erie Canal was an important factor in the settlement and growth of Macedon. Its two ports on the canal were Wayneport, formerly called West Macedon, and the village of Macedon itself. Today, Lock #30 of the Barge Canal System is located just off Route 350. Here visitors can view an operating lock.
Education was important to the early residents of Macedon. The Macedon Academy was well known throughout the area for its exemplary standard of higher education. Founded in 1841, the Academy was designed as an intermediate level of education, between the district school and college. The Academy adhered to very strict doctrines, and for more than fifty years had a great influence in guiding the morals and the higher education of young men and women in the area.
Today, Macedon is a growing community with an increase of almost eighteen percent in population from 7,375 in 1990 to 8,688 in 2000.
The Article was produced from the Wayne County NY web site.
News & Events
We are on the lookout for news and events in Macedon. Please check back soon for upcoming activities and reports from Macedon!