Electric Houseboats Cruising the Erie Canal
The E-Houseboat is being designed and built to be the first all-electric propelled and powered houseboat commercially available within the US.
The design team at East Coast Houseboats has been actively working on a completely unique way of building houseboats, and the E-Houseboat will be the first to benefit from this method.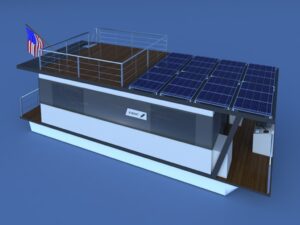 Starting with a fiberglass pontoon platform, the hulls are designed to minimize weight and provide less resistance as it travels down the waterway. The cabin is built completely with lightweight composite materials but without sacrificing the level of year-round comfort that is common to our standard boat designs
East Coast Houseboats has been fortunate enough to partner with marine industry leaders such as Yanmar Mastry and Glendenning Marine to provide the propulsion and control engineering.
The design includes the necessary infrastructure to not only propel the boats, but re-charge it's battery bank as she plies the Erie Canal in part due to the large rooftop array of lightweight solar panels.
Capitalizing on the latest lithium-Ion battery technology, controls, and propulsion from industry leaders, and including features such as 12v led lighting throughout, 12v refrigeration, 12v HVAC. All of which include products chosen for their ability to be integrated into the overall design and build of the boat.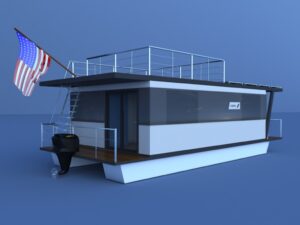 At 30' LOA, with a beam of 12' the E-Houseboat will comfortably accommodate a family or 4 as a cruising houseboat or can be configured as the perfect day boat anchored in a cove.
Looking to design your own version, we can build these boats from 22' to 30' and in beams from 10' to 15'9". The engineering can be configured to focus less on daily cruising and more on daily living, as an example these boats could be completely off the grid cabins located in remote locations.
Outdoor spaces include a front deck, as well as a large roof deck space perfect for great views and sunsets.
E-One the first boat of its kind is scheduled to launch on the waters of the Erie Canal System in New York during the 2022 Navigation season. The boat during its sea trials will be available for lock tours, boat shows and on the water events throughout the year. E-One will then be available for bareboat charters on the Erie Canal.