It's A Wonderful Life Seneca Falls
A classic movie that first appeared on the big screen in 1946 is now about to celebrate it's 71st year and Seneca Falls, considered to have been the community that the Frank Capra directed movie is based on celebrates the classic film once again on December 7th 8th, 9th and 10th. with a weekend full of events located throughout the town.
An Old Time Radio Theatre Broadcast performed by the Seneca Community Players at the "Bedford Falls Bijou Theatre" kicks off the celebration on Thursday night Dec. 7th. and the weekend closes with the Ringing of the Bells by the churches of Seneca Falls in honor of those who made a difference in our lives. Remember every time a bell rings an angel gets their wings!!
The weekend is packed with events on each day including It's A Wonderful Life participation movie on Friday night where there will be opportunities for Singing, Dancing, and Laughing. Before the movie take in the Mrs. Martinis Pasta Dinner & Movie Trivia from 5:30-7:30
On Saturday Join in on the Taste of Bedford Falls, wonderful food & drinks from many of the fine establishments from "Bedford Falls" from 5pm-7pm and then walk over to the Party in Pottersville being held each night of the event in a heated tent, with Beer, Wine, Soda, Cider, DJ, Dancing with two bars and light snacks available.
On Sunday take the "Bedford Falls" express a 90-minute train ride from Academy Square across Cayuga Lake to the Cayuga train station and back to Seneca Falls. These are just a few of the long list of events happening in Seneca Falls during the weekend. A full schedule of events can be found at www.therealbedfordfalls.com
While visiting Seneca Falls don't miss the opportunity to visit the It's a Wonderful Life Museum located at 32 Fall St. As you travel around Seneca Falls, think about how Frank Capra used his visit to Seneca Falls as a backdrop to Bedford Falls. Whether it's the steel truss bridge,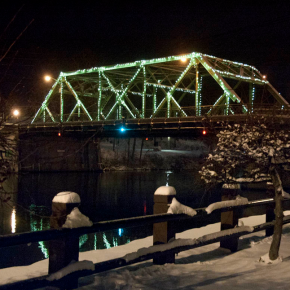 or the Partridge Building, Mr Partridge was the name of the high school principle in the Film. Seneca Falls had a very prominent family of bankers and merchants named Partridge. Visit the museum to learn about all the similarities between the movie and the town of Seneca Falls.
Seneca Falls located in the heart of the finger lakes surrounded by wineries and breweries, as well as being a prime location on the Cayuga / Seneca Canal is also the birthplace of the Women's rights movement being the home of the Women's Rights National Historical Park