Locktoberfest on the Erie Canal
Locktoberfest
Locktoberfest is a NYS Canal Corporation sponsored series of events located throughout the Erie Canal corridor. This year is no different with events located in five communities on all 4 sections of the Canal
Lockport located on the western section of the Erie Canal. Locktoberfest in Lockport is scheduled for Sept. 30th from the hours of 12 noon – 6 pm. A celebration of their local heritage, their farms, food, crafts, and community all built on the shores of the Erie Canal. For more info on the event in Lockport visit their web site at www.locktoberfest.org.
Seneca Falls hosts there first annual Locktoberfest celebration on Oct. 7th. The event is scheduled to last all day with vendors, music, food, and boats.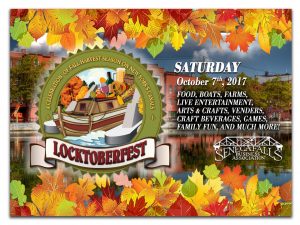 This will be the last weekend of boating on the Canals and Seneca Falls will be the place for boaters as Seneca Falls welcomes boaters with more than 900' of docking available. Free electric, wi-fi and boater amenity center all make for a great experience while visiting Seneca Falls
Rome, where the first shovel for construction of the canal 200 years ago went into the ground celebrates Locktoberfest on Oct. 7th from 11 am. – 8 pm. Rome celebrates Locktoberfest on the waterfront in Bellamy Harbor. Craft Beer and Wine Tent, Food Trucks, Pony Rides, and celebrate the grand opening of the Navigation Center and the lighting of the Water Tower at 6pm. More info at [email protected]
Phoenix home of the bridge house brats celebrates Locktoberfest on Oct. 7th. Their event runs from 11 am – 8 pm. Visit the Stage Street Food Court which will be featuring over 30 food trucks & vendors offering $1.00 samples and full menus of festival favorites.
Two full Beer & Wine Gardens including NY's finest craft beers, ciders, wine, slushies, smoothies and more!
Live music will be featured during the event on the Great Outdoors main stage along with acts appearing on their new second stage located on the northern end of State Street.
Countless Crafters and artisans will be on hand selling locally made unique creations!!
Fort Edward on the Champlain Canal celebrates on Oct. 14th. with an all-day event.