Oneida County History Center Announces Erie Canal Bicentennial Conference
Erie Canal Bicentennial Conference Set For May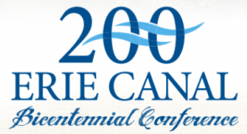 To begin the celebration of the 200 years of the Erie Canal, the Oneida County History Council in partnership with the Canal Society of New York will hold a conference in Utica and Rome May 19 to 21, 2017.
The Erie Canal Bicentennial Conference 200 will take place on Friday, May 19, 2017 at the Oneida County History Center, 1608 Genesee Street, in Utica. On Saturday, May 20 a bus tour will take those in attendance on an all-day bus tour of significant canal sites in Utica and then proceed to Rome. On Sunday, May 21 the conference will end with a two-hour canal boat tour from Herkimer.
At Friday's program six speakers will discuss the history, engineering aspects, and significance of the canal. Featured will be state historian Devin Lander, Dr. Andrew Wolfe, Craig Williams, Thomas Grasso, Dana Kruger, and Christine O'Neil.
Registration information will be released in mid-April through local media and at the conference website.