Plans announced to close gap in Erie Canalway Trail in Onondaga County
New York state has released a concept plan that closes the gap in the Erie Canalway Trail System between Camillus and DeWitt. It would extend the recreation trail through an urban area.
From the start, bridging the 14-mile gap has been the most challenging part of creating a seamless trail that closely follows the path of the Erie Canal.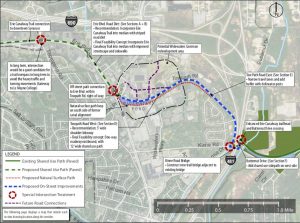 "This segment of the trail goes through the most heavily urbanized areas of Onondaga County," said Town of DeWitt planner Sam Gordon.
Gordon says there are several elements of the Elevating Erie concept plan that addresses that, but the most visible is arguably a multi-use, landscaped trail and green space running down the center median of Erie boulevard from Syracuse into DeWitt. It's something that could ultimately change the traffic pattern of a road that was once a main thoroughfare from DeWitt into Syracuse.
"Erie Boulevard itself was designed before 690 was built," Gordon said." So there is a lot of excess capacity along Erie Boulevard East. And part of this project will investigate reducing the number of travel lanes."
Other aspects of what the state is calling the Elevating Erie Concept Plan include a trail bridge over 481 near the Butternut Creek Canal Park and connecting downtown to Onondaga County's Loop the Lake trail.
Lawmakers have approved spending almost $22 million to complete the trail as part of Gov. Andrew Cuomo's Empire State Trail initiative. The project still needs final approval and there are opportunities for public input. Plans are for construction to begin next year so the trail would be in place by 2020.
Article originally written by Ellen Abbott