As we begin on our path through the bi-centennial celebration you don't want to miss out on a visit to the Erie Canal Museum. The museum is located at 318 Erie Blvd. East in Syracuse, collects and preserves Canal material, and provides engaging educational experiences that champion an appreciation and understanding of the Erie Canal's transforming effects on the past, present and future.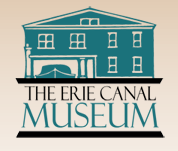 The museum sits within the only remaining weigh lock building in the United States. When the Erie Canal Museum opened its doors on October 25th, 1962 it celebrated and preserved the life of this building
The Syracuse weigh lock building is one of the oldest buildings in Syracuse having been built in 1850. It was one of six that existed along the 363-mile-long Canal. The purpose of these buildings was to weigh the canal boats and determine the tax on their cargo. The Greek revival building stands as a monument to the Erie Canal's transformative role in the history of the United States.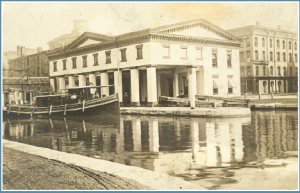 The Erie Canal Museum considers themselves to be the leading interpreter of Erie Canal history. Their vision is to advance the understanding of the profound influence of the Erie Canal on the history of Central New York, the United States and the world. They collect, interpret and make available the world's most important and comprehensive collection of Erie Canal related documents, photographs, prints and rare books.
The present museum and the attached Syracuse Heritage Area Visitor Center stand as testimony to the work of many dedicated people. The Museum which is accredited by the American Association of Museums is visited annually by more than 20,000 visitors from all 50 states and many foreign countries.
The Erie Canal Made New York is a permanent exhibit that opened in 2015, uses interactive displays, narrative audio tracks and original artifacts to explain why and by whom the Erie Canal was conceived. The technology used in its construction, Canal-inspired inventions and the waterway's role in our country's social and economic development. A display of the 1825 Wedding of the Waters Ceremonial Canal opening, complete with fireworks sound effects, leads visitors to the 1850 Weigh lock building, the Museums most important artifact
The Erie Canal Museum Is open Monday through Saturday from 10am – 5 pm and Sunday from 10am through 3 pm. Check out their web site for news and information on current events happening at the Museum. Admission to the Museum is by donation. A suggested donation is $5.00 and is greatly appreciated.