New York State Canal Conference
ONE WATER: NEW YORK HARBOR
OCTOBER 14 – 16, 2018 | HILTON GARDEN INN, STATEN ISLAND
One Water, New York Harbor is the theme for the 2018 New York Canal Societies' Canal Conference to be held on October 14th. – October 16th. at the Hilton Garden Inn, Staten Island NY.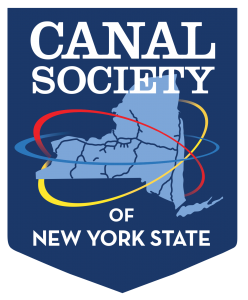 The conference will celebrate the role that New York Harbor has played in the success of the State's historic inland waterway system. As New York State continues to celebrate the Erie Canal Bicentennial, New York Harbor is the perfect venue to commemorate the Centennial of The Erie Barge Canal.
Attending this conference will provide an incredible look into the value the Erie Canal played in New York Harbors
The Canal Society of New York State was formed in Buffalo in 1956 at the annual meeting of the New York State Historical Association. In that first year, membership was open to anyone interested in the history, folklore, and engineering of former canals and the present condition of the state's remaining man-made waterways. This is still he primary focus of Canal Society Members today.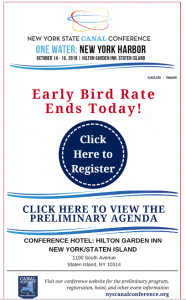 More than 50 years later, the Canal Society of New York State has an active membership and still organizes two field trips per year as well as an annual symposium, regular tours of European Canals as well as other smaller events. The Society has compiled a high-quality collection of canal artifacts, artwork, books and papers. You can learn more about the Canal Society of New York State on their website http://www.newyorkcanals.org
https://www.nyscanalconference.org/
SATURDAY, OCTOBER 13 – PRE CONFERENCE TOUR (TBD)
10:30 am – 4:30 pm
Boating with the Baymen: Long Island/South Bay Tour
________________________________________
SUNDAY, OCTOBER 14 – COMMUNITY DAY PROGRAM
12:00 pm
Registration opens for Community Program only
________________________________________
1:00 pm
Vans depart hotel
________________________________________
2:00 pm
Interactive Staten Island Ferry Cruise to Manhattan (Ferry ride is 1 hour RT)
________________________________________
3:15 pm
Walking Tour of St. George Waterfront/North Shore Promenade with stops and tastings at the Flagship Brewery and Oyster Bar
________________________________________
5:00 pm – 7:00 pm
Reception at Arts at Urby – will include remarks and exhibits featuring "Heroes of the Harbor"
________________________________________
7:00 pm
Dinner on own (will provide maps and restaurant options within 1 to 2 block away)
________________________________________
MONDAY, OCTOBER 15
6:45 am – 3:00 pm
Registration
________________________________________
7:00 am – 8:00 am
Continental Breakfast
________________________________________
8:00 am – 9:40 am
Welcome by Conference Chair, Conference Overview & Sponsor Recognition Welcome by Borough President, North Shore Representative & South Shore Representative
Welcome & Presentation by Host Community (Naomi Sturm & Dan Ward)
Presentation by NYS Canal Corporation & NY Power Authority
Presentation by Erie Canalway National Heritage Corridor Commission
________________________________________
9:45 am – 10:15 am
BREAK and Refreshments in Exhibitor Space
________________________________________
10:15 am – 11 am
Revitalizing Staten Island's Commercial Waterfront
________________________________________
11:00 am – 11:15 am
BREAK
________________________________________
11:15 am – 1:00 pm
Luncheon & Program – New York's Empire State Trail (Andy Beers)
________________________________________
1:15 pm – 5:30 pm
Mobile Workshops
(1.) Staten Island Ferry, Lower Manhattan Walking Tour/Canal Slips and South Street Seaport
(2.) Arthur Kill Boat Graveyard, Conference House & "Graves of Arthur Kill" Film Screening
(3.) Sailor's Snug Harbor & Noble Maritime Collection
________________________________________
5:30 pm – 7:00 pm
Registration
________________________________________
6:00 pm– 7:00 pm
Reception with exhibitors (cash bar/light hors d'oeuvres)
________________________________________
7:00 pm – 9:30 pm
Dinner and Awards Presentations
Special Presentation: Water Way Youth Video
________________________________________
TUESDAY, OCTOBER 16
7:30 am – 11:00 am
Registration
________________________________________
8:00 am – 9:00 am
Continental breakfast with Exhibitors
________________________________________
9:00 am – 9:45 am
Break-out Sessions 1
(1.) Barge Canal 100th Anniversary
(2.) Billion Oyster Project
(3.) Coastal Storm Risk Management
________________________________________
9:45 am – 10:30 am
Break-out Sessions 2
(1.) Developing the Genesee River Waterfront
(2.) Interpreting Erie Canal History & Heritage
(3.) New York's Iconic Attractions on the Water
(4.) Reimagine the Canals
________________________________________
10:30 am – 10:45 am
Refreshment break (coffee only)
________________________________________
10:45am – 11:45am
Break-out Sessions 3
(1.) Matton Shipyard: Preservation & Adaptive Reuse Initiative
(2.) One Water/One Brand
(3.) Shape Your Waterfront: How to Promote Access, Resiliency and Ecology at the Water's Edge
(4.) Waterfront Recreational Opportunities
________________________________________
11:45am – 1:00pm
Boxed Lunch
© 2018 Canal Society of NYS – All Rights Reserved
Canal Society of NYS