About Palmyra
About Palmyra
Palmyra NY finds itself front and center in the history and prominence of the Erie Canal, all three versions of the Erie Canal have passed through the town and today Palmyra's location at mile marker 235 allows travelers either on the water or by land to enjoy the community's connection to the Erie Canal Corridor. Palmyra offers boaters and bicyclists and opportunity to stay and enjoy the community.
Their harbor offers protected docking with water, wi-fi electric and clean and modern restrooms with showers. The Erie Canalway trail passes right through the harbor park and with a short walk to Palmyra's main street, Palmyra should be on every Erie Canal Travelers list of must stops.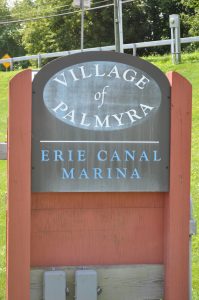 Palmyra understands its historic connection to the Erie Canal. With five museums located a short distance from the Canal, and its connection to the creation of the latter-day Saints Movement and the Mormon Church
History of Palmyra
The town of Palmyra was created in January 1789. Palmyra originally included the present day town of Macedon, which was taken off in 1823. The town is comprised of just over 19,400 acres of undulating surface.
Originally known as Swift or Swift's Landing, the town became the District of Tolland soon after settlement began. However, a meeting was held in January 1796 for the purpose of deciding upon an official name for the town. The historic name "Palmyra" was proposed and adopted without dissent.
The first settler in Palmyra was John Swift in 1789. John Swift built the first grist mill in the town, held the first militia training, organized and donated land for the first church, the first schoolhouse and the first burial ground. His son, Asa, was the first white male child born in the town.
Palmyra is regarded as the birthplace of the Mormon religion. In 1820 near Palmyra, fourteen year old Joseph Smith claimed to have been visited by God, the Father, and Jesus Christ. An event the Mormons call "The First Vision". In 1827, Joseph Smith is said to have been visited by the Angel Moroni and given a set of golden plates upon which were written the Book of Mormon. In 1830 in Fayette, New York, the Church of Jesus Christ of Latter Day Saints was organized with a membership of six. Today the Church has a membership of over eleven million worldwide.
Palmyra also has ties to the renowned British statesman, Winston Churchill. Leonard Jerome, Churchill's maternal grandfather was born in Pompey, New York, to Isaac and Aurora Murray Jerome. At a young age, Leonard made his way to Palmyra where his uncle, Hiram Jerome, had opened a law office. After saving money from his job as apprentice in a village store in Palmyra, Leonard left for Princeton in 1836, at age 19. While he was at college, Leonard's parents moved to a farm in Marion.
After completing his education and studying law for a time in Albany, Leonard moved back to Palmyra where he joined his uncle's law practice as a partner. While living in Palmyra, Leonard met Clarissa Hall, daughter of Ambrose and Clarissa Wilcox Hall. The two married April 5, 1849.
After moving to Rochester and owning a newspaper with his family, Leonard was appointed Consul at Ravenna, Italy. When his term as Consul expired, the Jeromes moved back to the United States to live in Brooklyn. Here, on April 15, 1851, their daughter, Jenny, was born.
When she was thirteen, Jenny's mother moved, with her daughters, to Paris for health reasons and to give her girls a good education. Several years later, while summering on the Isle of Wight, Jenny met Lord Randolph Churchill. It was love at first sight and Lord Randolph proposed three days later. They were married April 15, 1874. Their first child, Winston, was born later that year.
In addition to the above, Palmyra was home to many well-known citizens, such as Henry Wells of Wells Fargo fame, which later became part of the American Express Company. Admiral William Sampson was born in Palmyra in 1840. He graduated from Annapolis and served in the Civil War and the Spanish-American War. Palmyra was also the home of Olin J. Garlock who invented the rubber packing gaskets which revolutionized the steam industry
This article was re-produced from the Wayne County web site.
News & Events
A Women's History Month Program has been set for March 15th from 7 to 9 p at the Alling Coverlet Museum, 132 Market Street, in Palmyra, Wayne County, NY. This event will introduce attendees to the women of Palmyra's history such as Dr. Harriet Adams, Clarissa Hall Jerome, Lavinia Chase, Harriett Hyde Sexton, Anna […]

Read More

A SUMMER SNAPSHOT: PALMYRA HARBOR HOST PROGRAM 2017 – Season Five Despite a shortened season and less than excellent weather, a 14% increase in the boat count, 135 in 2016, 156 this year, was noted. Many of our visitors had docked here before, often several times. The presence of the Lois McClure during […]

Read More

Don't miss one of the best of events as summer comes to an end. The 50th annual Palmyra Canal Town Days is once again being held on Sept. 16th from 10am – 6 pm. and on Sunday Sept. 17th. from 10am – 4pm. With vendors of all types, Bands, Pony Rides, Car Show, 5k Run […]

Read More