Peppermint Days, Lyons NY 2018
If you like parades, fireworks, concerts, food, car shows and small-town charm then you want to be in Lyons NY from July 13th – July 15th. 2018. Lyons celebrates its heritage as the Peppermint Capital of the world. In 1841 E.G. Hotchiss located his essential oils business to Lyons where he processed the locally grown peppermint plants into oils and other related products.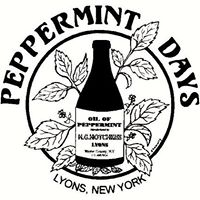 Lyons is the county seat of Wayne County, the village is full of historical buildings and architecture, six village properties are listed on the NYS and National Register of Historic Places. It is also a "Main Street USA" designated village.
As is the case with many villages along the Erie Canal, Lyons opens its doors to boaters. Located at mile marker 220 last year Lyons had hosted boaters from 34 states, Canada and visitors from 4 countries outside of North America. Lyons offers free docking on both the North and South sides of the Canal, Free electric, water, wi-fi and bathrooms with showers are provided at the Lyons Fire House just steps from the Canal Wall.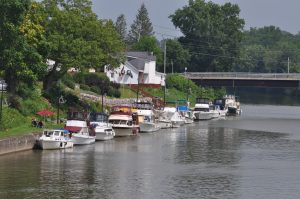 Lyons also participates in the Mural Mania program which promotes the creation of Canal themed murals painted throughout villages along the western section of the Canal. Nearly a dozen large murals depicting life in a small town are displayed around the village.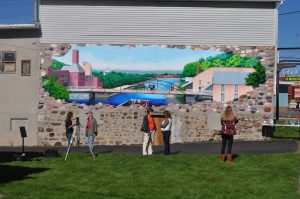 On Sat night, Lyons puts on what is reported to be the largest fireworks display in upstate NY called Thunder over the Erie, the main bridge over the Canal is closed and is filled with spectators, the Canal fills with boats as the NYS Canal Corp keeps the locks open later to allow boaters to enjoy the event.
Boaters, don't forget the NYS Canal System is FREE to all recreational boaters this year in celebration of the Bi-Centennial celebration of the beginning of construction of the Erie Canal.