The Richmond Aqueduct on The Erie Canal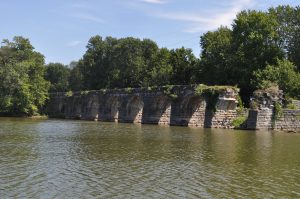 As the second longest of the aqueducts that were used to transport boats over rivers on the enlarged Erie Canal, The Seneca River Aqueduct also known as the Richmond Aqueduct named after the engineer who designed and directed the construction Van R. Richmond.
The construction of the more than 840' long structure was started in January of 1849 and was completed and put into use during the spring of 1857. Thirty piers and two abutments of Limestone supported a timber trough carried canal water over the river. Thirty-one stone arches supported the towpath. All but seven of the arches were removed in 1917 to allow for the current day path of the Canal.