The Underground Railroad, Wayne County NY and the Erie Canal
New Underground Railroad History Book Now Available
There is a direct connection between the Underground Railroad and the Canals of New York. Many African Americans used the Canals as routes for escaping from Slavery. The canals gave some the pathway to Freedom, many others settled in canal towns throughout the Canal Corridor. Safe houses existed in many communities and a new book has just been released about the Underground Railroad and the importance that Wayne County played at that time in history.
Marjory Allen Perez, former Wayne County Historian announces the completion of her new book, Last Stop, Freedom! The Underground Railroad Experience in Wayne County New York. "So often the story of the Underground Railroad is focused on the persons who aided the fugitive slaves. I decided to put the spotlight on the individuals who were the 'passengers' of the Underground Railroad and who had either settled in Wayne County or passed through the county on their way to Canada," stated Ms. Perez.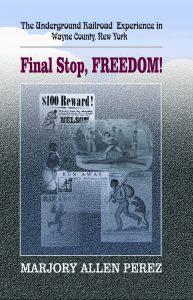 The book includes biographical sketches of men and women who set their hopes on freedom and boarded the Underground Railroad between 1800 and 1865. Thomas and Agnes Watkins were brought as slaves from Virginia to Sodus Bay by Captain William Helm about 1800. In 1810 they fled from slavery, taking with them their infant son, Edward Lloyd and Susan Chase and their six children arrived in Macedon NY about 1844, but within a few years felt compelled to continue their journey to freedom, moving to Canada. In 1863, William Scott, then known as William Bacome took advantage of the disruptions of the Civil War in Tennessee to begin his odyssey to freedom, traveling first to Massachusetts and eventually to Huron, New York where he set down deep roots and raised his family
Perez stated that the impetus to turn her research into a book was spurred on by a project, spearheaded by Dr. Judith Wellman, professor emeritus at the State University at Oswego that surveyed the Underground Railroad, abolitionism and African American Life in Wayne County. Completed in 2009, the report revealed that many Wayne County residents played a critical role in both the Underground Railroad and in reform movements of the day.
Last Stop, Freedom will be on sale at local historical society gift shops or by contacting Ms. Perez at (315) 946-4562 or at [email protected] The books retail price is $17.95 Discounts are available to libraries, schools, museums and retail shop