Canal Clean Sweep Lyons NY
Each year prior to the opening of the Erie Canal for the Navigation Season communities around the Canal Corridor celebrate the canal by planning a weekend of events that focus on the cleaning up or improving the areas around the Canal.
2017 begins the celebration of the 200th year of the canal and with the Navigation Season here Lyon's is ready to welcome visitors to their community.
The community held its annual Canal Clean Sweep on Saturday under some windy and misty conditions.
Canal Clean Sweep leader Bob Stopper "said 57 hardy volunteers participated in the annual event to spiff up the Lyons Canal Waterfront" Volunteers began arriving at 8am. and signed in at the "headquarters" picnic tables loaded with Canal Clean Sweep T-shirts, doughnuts, juice, coffee and water.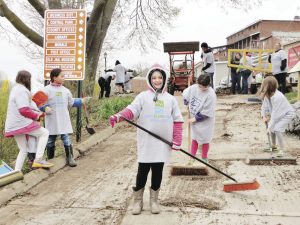 The tables were behind the American Legion, directly over the former Clinton's Ditch and Towpath.
"The volunteers, young and old, community members and visiting guests, picked up litter, trimmed shrubs, pulled weeds, raked the bank and created piles of trimmings for tractor removal" said Stopper. "Other volunteers walked the bike trail from the dock to Abbey Park and picked up a bagful of debris. Young Girl Scouts in Canal Clean Sweep T-shirts and brooms in hand could be seen everywhere.
"For several of the scouts, said Stopper, this was their third year participating" The Lyons National Bank employees worked the Southside Canal Park from the Geneva Street (Route 14) bridge to the Canandaigua Outlet Spillway. "They did indeed make quite a heist of debris" he cracked.
Once the dock and canal bank area were "clean-sweeped" and Girl Scout Troop 40046 had erected four bluebird boxes along the perennial flower garden, it was time to celebrate.
The crowd gathered at headquarters for awards, prizes and surprises. 47 gift certificates ranging from $5 to $20 all donated by 52 individuals and organizations. For the third year in a row, everyone received a pirate rubber ducky, a donation from a canal boater in Michigan, Stopper said.
Following a quick history lesson about the Erie Canal, a round of applause for all the supporters and a round of applause to signal the end of a good day. The American Legion welcomed everyone into a warm hall where eight hot pan pizzas were awaiting the hungry volunteers, Stopper said.
"Yes, the young workers were allowed seconds and thirds" he said. "As the young volunteers exited the Legion hall with an extra piece of pizza in one hand and donated gifts in the other hand, many of them yelled, "This was fun. See you again next year!"
The annual Erie Canal Clean Sweep is supported in part by the State Canal Corporation, now under the New York Power Authority, and the state Department of Parks, Recreation and Historic Preservation.