Fake News & The Erie Canal!
Newsday had recently published an article that stated the Erie Canal's Future uncertain. Fact or fake news?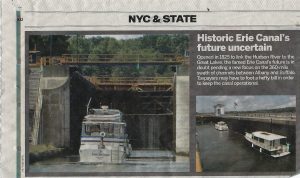 I am here to tell you the Erie Canal System is alive and well. 2017 starts an 8-year celebration of the bicentennial of the building of the Canal. The Erie Canal was recently placed on the National Register of Historic Places. Governor Cuomo has just placed the NYS Canal Corporation, the state agency responsible for the maintenance and operation of the Canal System under the control of the New York Power Authority. The power authority generates their revenue through electrical power generation and power transmission. There are currently three hydroelectric plants on the Erie with another 27 that could once again begin to contribute electric to the grid. The NYS Canal System uses no tax payer dollars for its operation. That's correct. The operation of the Erie Canal without doubt the greatest recreational resource in NYS requires no tax payer resources. To further dispel any further rumors, the NYS Canal System is protected under article 15 in the NYS constitution. No one's filling in the ditch!!
Whether you're a boater, a biker or a fan of road trips The Erie Canal Corridor has it all. There are 524 miles of navigable water ways. The Canalway trail spans from Buffalo to Albany and is the home of the 8-day bicycle trip across the state that is held each July sponsored by Parks and Trails NY. Did you know that if you started a boat trip in Waterford, where the Erie meets the Hudson that the first two miles will lift you over 160'. that is the largest rise of any navigable waterway in the world. Did you know that the 55 locks on the current canal system are all using the same technology that they did 100 years ago.
A trip to the NYS Canal system allows for a trip through history from the opening of the original canal back in 1825 to the communities of today
Organizations such as Canal NY, a nonprofit comprised of businesses and community organizations from throughout the canal corridor who are dedicated to the promotion of the Canal. They have just launched a new web site called www.discovertheeriecanal.com "the tourism site of the Erie Canal" Which will allow for visitors to the canal system to learn about and plan a trip to the region.